An elevator is an open or closed platform used vertically in a building to transport people or freight from one floor to another. Elevators are the standard component of any high residential or commercial building. In reality, Elevators have today become a required complement to lifts and other large buildings to make negotiations with wheelchair users simpler for people with mobility problems.
How Does an Elevator Work?
The synchronized motion of the traction cables in opposite directions is the basis for the functioning of an elevator. As a result, when the traction cables move up, counterweights such as a hoist and other similar devices pass in the opposite direction. The entire system is normally controlled by electric motors or a hydraulic fluid pump.
The counterweight's primary function is to minimize the amount of weight that the motor must lift while keeping the elevator under control and the cables intact. The car elevator is made of steel for long-term reliability and strength. A spanned side-to-side elevator shaft holds the hoist cable's pulley in place. A series of steel beams above the elevator car power this spinning.
Additional equipment is also installed in modern elevators by elevator installation services in the UAE. Some have telephones to help the occupant in case of an emergency. Others are equipped with a trap door on the ceiling which allows escaping in emergencies.
Elevators are built and installed in buildings based on the number of people who will be using them and the tasks they will perform. Some structures, for example, may have huge elevators that will carry freight to various floors.
Types of Elevator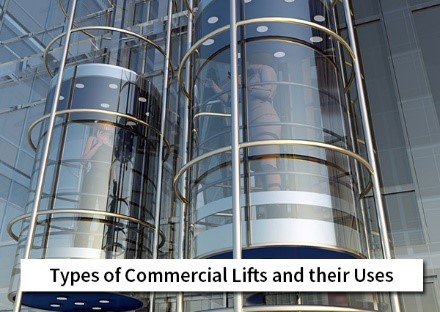 Elevators can be classified into different categories based on the type of hoist system used, which are commonly used to meet the needs of everyday life.
Traction Elevators: These elevators are usually used for the transport of people and freight in high-rising and other large facilities.
Hydraulic Elevators: Hydraulic elevators are less complicated than traction elevators, making them suitable for low-traffic or low-rise buildings. These elevators use a hydraulic mechanism to propel the elevator car upwards toward gravity while the car devolves under gravity's pull.
Climbing Elevators: These are self-ascending elevators that climb using their propulsion. Combustion or electric engine can be used to achieve this propulsion. These types of elevators are typically offered by elevator installation services in the UAE employed in towers or masts so that the various sections of the system can be maintained with easy access.
Pneumatic Elevator: These lifts use a vacuum and an air bracket, as the name implies, to move the car upwards and downwards in lieu of the vacuum. However, these are low capacity elevators, where they can be accessed simultaneously for only around 3 passengers with a total weight of 525 livres.
Machine-Room-Less (MRL) Elevator: The majority of elevators have a machine room above the shaft of the elevator. This form of the elevator is equipped with a machine in the override space and is available only through the top of the elevator if maintenance is necessary. This type of elevator has a maximum speed of 500 feet per minute and can only travel a distance of 250 feet.
Mid-rise buildings are increasingly using MRL elevators because they save energy and take up less space during construction.
Vacuum (Air Driven) Home Elevator: Vacuum elevators offered by elevator installation services in UAE operate without the use of cables or pulley systems. The natural laws of physics govern the operation of these air-driven elevators. This elevator device is essentially a tube in a sealed vacuum, made of polycarbonate and aluminium materials. Movement is aided by the air under and above the elevator car.
How to Choose an Elevator that Best Fits your Needs
You may want to install an elevator in your space for a variety of reasons. To begin with, elevators are useful for those with limited mobility who need to travel from one level of the building to another. A sick person, a senior citizen, a handicapped person, or simply someone too tired to use the stairs are examples of these individuals. Other times, you might plan to add the facility to your building after it has been remodeled to provide more convenience.
Elevator Size
If you are constructing a new property or adding a shaft to an existing structure, modern elevators are offered in a variety of sizes by reputed elevator suppliers in the UAE. It is important to keep in mind how many people use the building elevator on a regular basis, as well as what they bring with them. You want to make sure that the elevator you choose is suitable for your requirements.
Compliance with Standards
Ensure the elevator you choose meets the specifications and that the installation follows the building code to the letter. This will aid in maintaining the facility's stability as required by law, but only if proper maintenance is carried out. It will also keep the elevator as steady as possible for as long as possible. And if you do not fully comprehend all of the criteria for installation, the elevator company should be aware of them and obey the guidelines. Your elevator company is only required to sell elevators that comply with the building code.
Safety
The laws governing protection come first and foremost. It is important that the elevator can support the weight of several passengers at once. After the elevator has been mounted, it must be measured for maximum capacity and stated in the elevator so that people are aware of its capacity. In the case of an emergency or a malfunction, elevators must also be fitted with an alarm system.
You must also perform safety checks on the area where the elevator will be installed to ensure that it is adequately stable. In order to avoid any mishaps, it is also important to ensure that only approved staff and maintenance employees have access to the elevator machinery.
Capacity
Before beginning the installation, consider how many people will need to enter the building during the day. This will help you determine the estimated capacity and number of elevators required. If there are not enough elevators for the number of people in the building, there would be long lines.
As a result, it is important to measure the capacity ahead of time in order to properly build the elevators. To ensure efficiency and safety, taller buildings can require multiple shafts and elevator cores.
Design
Elevator design is determined by the design of the building in which it is built, as it must complement the aesthetics of the structure.
Residential elevators, for example, are likely to have a more appealing visual appearance. Corporate buildings, on the other hand, may be more plain and standardized, and modern buildings will need to collaborate with an architect and interior designer to ensure the elevator fits the overall style of the building.
Maintenance and operation cost
Make sure you understand how much it would cost to operate and maintain an elevator over time. It is best to choose elevators with low maintenance and operating costs in this case. There are models on the market that use very little electricity, and these should be your first preference when shopping. Installing high-energy-consumption elevators incur extra costs, and you will face financial hardship as a result.
The cost
Although cost should not be the only consideration when building an elevator, it is critical to set a budget and stick to it. You should weigh the cost of potential elevator repairs in addition to locating an elevator that works within your budget. Before you have an elevator installed in the building structure, ask the elevator provider how much maintenance you can expect. It will allow you to plan in order to better manage it in the future.
Quality
Quality is important to consider when installing something. However, you want to ensure that you purchase quality equipment from reputable elevator and escalator suppliers in UAE when it comes to elevators.
You do not want an elevator that breaks down constantly, so it is worth spending a little more on a reputable brand.
Smart Technology
In today's buildings, smart technology is being used to track access and increase security. As a result, it is no surprise that smart elevators offered by elevator installation services in UAE are becoming more prominent. Instead of pressing a button, smart elevators use keycards or fobs that can be configured for particular floors.
Elevator access control systems can help to improve the security of the building while also making it easier for people to get where they need to go. It is important that you take into account all the aspects listed above when installing an elevator. This helps you to install the building's ideal lift system.
When you need to install quality elevators, respectable elevator suppliers in the UAE like Sunelevators would stick around. Research is a safe guide for companies to choose the best. You do not want to buy from a business then the warrant is lacking so that the defective elevators cannot be serviced or returned.
The above details will be a guide for selecting the right one with all models on the market. Search for the price of the elevators in different shops to choose the cheapest. However, make sure that the facility remains well maintained to extend its life span, performance, and energy use.
The proper operation of an elevator or escalator provides people with protection and peace of mind while still allowing them to travel freely. The speed at which interventions are made decreases inconvenience, and the frequency at which tests are performed ensures that the lift's output remains constant.
Sunelevators one of the best elevator maintenance companies in UAE has the most relevant industry certifications to guarantee the service, as well as a call center that is open 24 hours a day and operates throughout the country, as well as trusted and accredited partners in other countries.
With a corporate policy that starts with our employees and makes protection a fundamental part of every project, we work to ensure complete peace of mind for our lift users. The product's safety and consistency are inspected at Sunelevators, one of the leading elevator maintenance companies in UAE by leading organizations of national and foreign inspection bodies to the highest industry level.